Conference venue
The venue of the joint conference is located on the campus of the Karlsruhe Institute of Technology (KIT), right next to the Karlsruhe Palace and the wide-ranging palace courtyard - a beautiful environment for networking between sessions. Also very close is the inner city of Karlsruhe. Conference participants can reach the heart of the city of Karlsruhe and the public transportation system within walking distance, which makes the whole city of Karlsruhe easily accessible.
How to get to the conference venue
(click in the upper right corner to get to the full screen map)
Karlsruhe Institute of Tefchnology (KIT)
Buiding 20.13 Kollegium am Schloss
Schloßbezirk
76131 Karlsruhe
Using the public transportation system
If you are traveling to Karlsruhe by train, it is best to use the public transportation system of the Karlsruhe Transport
Authority (KVV) to get to the conference venue. Please find below a list of trams and their resprective final destination that can
be taken from Karlsruhe main station to the conference location approximately every 5 minutes. If you are have chosen one
the four trams at the top, please exit at the stop "Kronenplatz (Fritz-Erler-Str.)". If you have taken tram no. 4 to Waldstadt,
you can either exit at  "Marktplatz (Kaiserstr.)" or "Kronenplatz (Kaiserstr.)". From any of these stops, the conference venue
can be reached in 5 minutes walking distance.
If you need further information about your trip to conference venue, please use the online trip planer and select
Kronenplatz (Fritz-Erler-Str.) as your final destination or click on the map of the Karlsruhe urban railroad network.
              



 
 
 
 
 
 

 

 
 
 
 
 

 

 
 
 
 
 


 
- take exit 45 (KA-Mitte) to Landau (Pfalz)/Karlsruhe and head onto K9652 (Südtangente)
- take the exit to Oststadt and follow the sign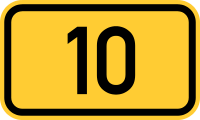 - stay on B10 (Wolfahrtsweiererstr.) until heading a roundabout
- take 2nd exit of the roundabout and follow again B10 (Ludwig-Erhard-Allee)
- after 350m turn right onto Fritz-Erler-Str.
- after 250m, the public parking and the conference venue is on the right
It is best to park your car at the hotel. In case you want to make use of public parking, we highly recommend one of the
following parking facilities next to the conference venue to all vistors:
'Tiefgarage Universität' - opening hours 24/7, 222 parking spaces, fee 1.50 EUR/hour, max 6.00 EUR/day
'Parkhaus am Schlossplatz' - opening hours 24/7, 912 parking spaces, fee 1.50 EUR/hour, max 6.00 EUR/day